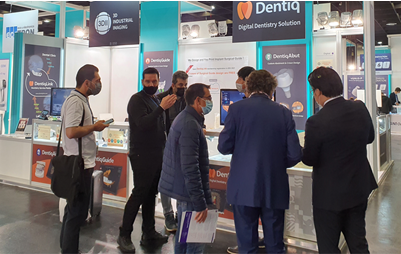 Even under COVID-19 pandemic, 3DII boldly attended the biggest dental fair-IDS2021 in order to expand in the European market.
At the exhibition, Dentiq Solution attracted many visitors, showing many interests in DentiqGuide-implant planning software, DentiqAir – anti-snoring device and anti-bruxism device design software, DentiqAbut, DentiqCAD, Dentiq3D – CBCT viewer as well as DentiqLink – interdisciplinary treatment planning platform service.
In the result of this fair, we ascertained Dentiq Solution is welcomed by many digital dentistry experts – dentists, dental technicians, dealers and companies in the global market. Some business inquiries from European dealers and Central-Asian dealers will soon be made a contract.
Furthermore, Influential dental society leaders from Europe are willing to be lecturers of DentiqGuide. We will initiate these opportunities firmly and derive not only business growth but also dental practice improvement cooperatively.