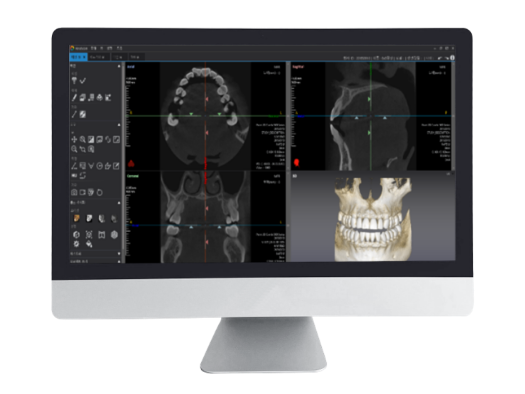 Dental 3D Software for the visualization and analysis of dental CT data. 
Dentiq3D is dental imaging software that provides intuitive and real-time 3D volume processing functions for the visualization and analysis of dental CT data.
Dentiq3D provides accurate diagnosis and powerful consultation tools for dental specialists.
Dentiq3D is intended for use as software to load, view, and save DICOM images from digital dental equipment, and to provide powerful diagnostic tools such as instantaneous 3D visualization, various view modes (MPR, Arch Curve, TMJ, Airway, Panorama), Implant Simulation, nerve and bone density measurements.
By providing an easy-to-use user interface, Dentiq3D will enhance treatment planning capabilities and patient communication.
Dentiq3D's high-quality volume rendering allows for real-time rendering and anatomical-specific rendering for diagnostic planning.
Dentiq3D includes an implant library that provides realistic implant models and provides powerful planning tools for optimal placement of implants.
With an intuitive user interface, you can streamline the workflow and reduce the number of clicks.
It complies with international standards like DICOM and is therefore fully compatible with PACS (Picture Archiving and Communication System) and other software.
You can import 3D data from standard file types to Dentiq3D, convert DICOM data to surface models, and export to STL files.
Image reconstruction developed with its own technology provides the best image quality in a short time without additional procedures.
Dentiq3D provides an interface optimized for dental environments, allowing you to perform tasks quickly and with as few clicks as possible.
Various Diagnosis and Planning Tools
Dentiq3D provides a variety of functions for the simulation of implants, and the measurement of  temporomandibular joint, airway, and bone density measurement.
You can build reports quickly and easily by using the capture function and hard copy printing is also available.
High Quality 3D Rendering
Quick volume reconstruction and various rendering presets, you will be able to easily anatomical structures.
To refine noisy volumes by 3D volume filter, generate a mesh object(STL) and provide volume segmentation.
GPU accelerated technology enables real-time 3D rendering and fast volume processing.
Quick and Intuitive User Interface
Dentiq3D provides an intuitive manipulator that can easily manipulate Volume, Curve, Implant, and Nerve.
Automation minimizes user clicks and provides images optimized for diagnosis and consultation.
It manages all the user's work history in a list, so undo/redo is easy.
Various Diagnosis and Planning Tools
Implant planning in Dentiq3D is easy and intuitive. Extensive library and easy-to-operate tools enable high accuracy implant treatment planning.
Segmented 3D Airway through easy operation can accurately measure volume and area.
It provides various layouts you want to accurately analyze Condyle and Fossa of TMJ, and provides a powerful tool for TMJ analysis.