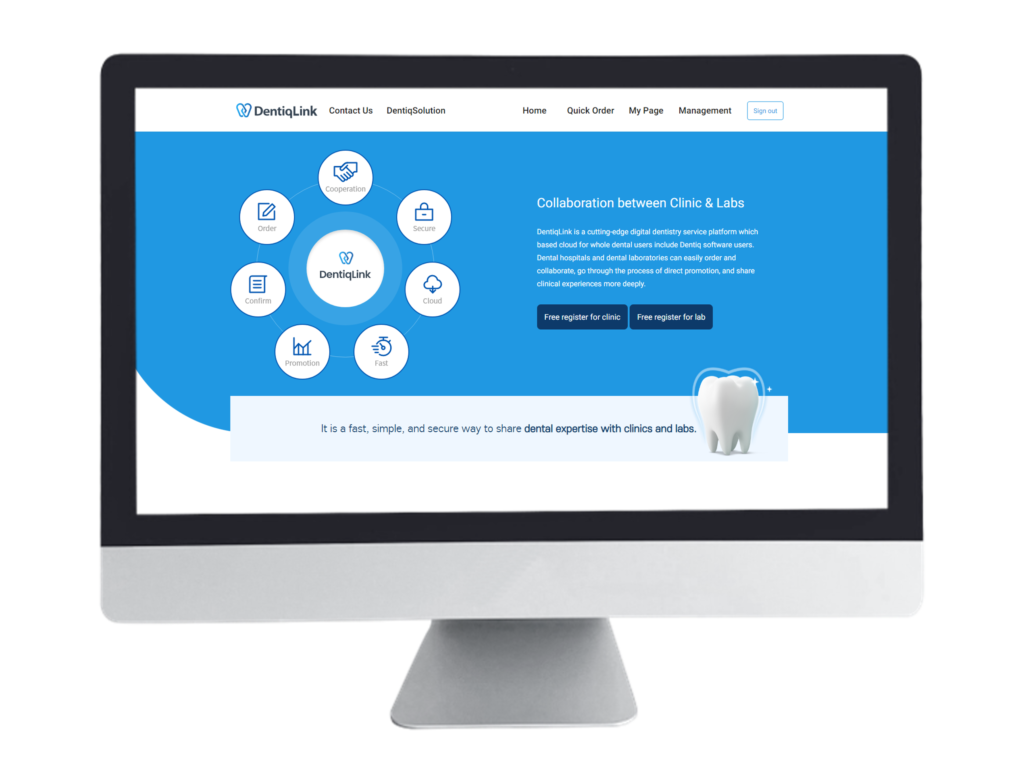 DentiqLink is a cutting-edge digital dentistry service platform for Dentiq software users. It is a quick, easy, and secure way to share dental images and expertise with clinics and laboratories. Based on cloud technology, dental 3D imaging, and AI-based intelligent diagnosis and analysis, the DentiqLink platform provides digital dentistry services of intelligent treatment planning and the design/print of dental prostheses to dental clinics and laboratories.
Time to Connect to DentiqLink and Enjoy Your Digital Dentistry. 
Digitization, Artificial Intelligence, Big Data, Cloud Computing – the dentistry world is changing rapidly. These technologies not only present challenges but also offer enormous opportunities for effective dentistry services.
The DentiqLink platform must be a shortcut solution for effective dental clinic/lab marketing and digital workflow/task management.
Simply outsource the design & print of your Tx products to our trusted labs. Our digital dentistry services bridge the treatment capability gap for your clinic With the trusted network of dental labs that specialized in dental indications from implantology, crown & denture, and smile orthodontics.
You can save the Tx time to have more time for the patient, and deliver the right treatment at the right time through the DentiqLink site.
Full Digital Workflow - SCAN, DESIGN, CONFIRM, PRINT, and TREAT
SCAN – Scan a patient and Upload scan files to chosen design lab through DentiqLink portal.
DESIGN – Your design lab works on your design cases based on the scan files.
CONFIRM – Receive the design files through the DentiqLink portal and confirm the design.
PRINT – Your design lab produces treatment products (e.g. surgical guide, abutment, crown).
TREAT – Do treatment as soon as your products are delivered.
Connecting Clinics to Labs
Linking digital solutions with Clinic-Lab Chains.

Connecting Clinics to Labs
Comprehensive Service Offering
Comfortable Digital Workflow
Comprehensive Planning & Design for Implantology​
DentiqLink provides a digital implantology treatment plan and comprehensive design processes for implant surgical guide, abutment, prosthesis, and smile orthodontics, based on high-quality 3D image SW.
Comfortable & Fast Treatment Possible
By digitizing the entire process of ordering, design, verification, manufacturing, shipping, and image management for digital dental prostheses, faster and more accurate treatment is possible.
Service Client (Dental Clinic)​
Select and order digital dentistry design and printing service offerings from the dental lab's services portal.
Monitor service orders and progress through their service portals.
Service Provider (Dental Lab.)​
Register offering products on the service portal of dental laboratories, and conduct marketing, sales, and service provision for dental clinics.
Provide the design & printing services of implant surgical guide, abutment, and temporary tooth (including order confirmation, design, production, delivery) to dental clinics.
Platform Provider (Platform Operator)​
Operate the DentiqLink platform, providing individual service portals to the member clinics and labs.
Manage business-support system and operation-support system (in relation to Service Order / Status Monitoring / Delivery / Settlement).